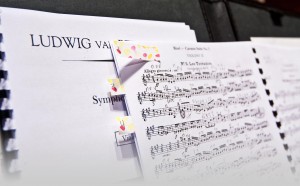 Thank you for your interest in auditioning for the Claremont Concert Orchestra!
At the moment (August 2021), the CCO is planning for an in-person Fall 2021 semester, adjusting as necessary to comply to the latest guidelines.
Works projected to be performed in Fall 2021 include Schubert's Unfinished and Dvorak's New World symphonies as well as exciting dance-inspired works by a diverse list of composers from the Americas, including Bernstein, Ginastera, Márquez, Piazzolla, Coleridge-Taylor, and Price.
Fall 2021 Auditions
Normally, auditions take place in person during orientation week and within the first 2 days of the fall semester and all students (new and returning orchestra members) are required to audition. During these transitional times, auditions will take place asynchronously online through the audition form provided below. We have determined that not only will this be the safest alternative, but it will also give students greater flexibility in submitting their best audition during these challenging times.
Fall 2021 AUDITION FORM.
IMPORTANT NOTES:
Returning students who participated in the CCO in person before only need to fill out the first section of the form.
Only students who have not played in person with the CCO before must use the last three pages of the form to submit their audition videos (the video requirements are outlined in the form). If you happen to be unable to record your audition videos in the next few weeks, contact Prof. Cubek about alternative audition options (e.g., scheduling an in-person audition during the first week of the semester).
You may go ahead and submit a Perm Request on the academic portal for MUS 175. Perm Requests will be processed after the auditions are completed (by the first week of classes at the latest). You will be able to return to the portal and add the class at that point.
If you have questions, please contact Prof. Cubek at dcubek@scrippscollege.edu or dcubek@g.hmc.edu