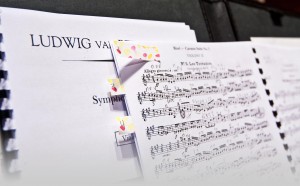 Thank you for your interest in auditioning for the Claremont Concert Orchestra!
Fall 2017 auditions will take place during orientation week. Detailed information and materials pertaining these auditions will be posted here in the summer. As a reference, you may check the information and materials for the Fall 2016 auditions below.
Join us in 2016-2017 to perform Stravinsky's Firebird Suite, Mozart's Requiem, Sibelius' Finlandia and Pélleas och Mélisande, and other great compositions!
If you are planning to take individual lessons on your orchestral instrument, please visit here.
Both incoming and returning students/members are required to audition. Audition repertoire consists of a 5-7-minute solo piece of the student's choice and a few orchestral excerpts (see audition materials below) from the repertoire that the orchestra will be performing in the upcoming semesters. By preparing these excerpts students are not only getting ready for an audition but also investing time learning the music they will be performing in the very near future. 
Fall 2016 Audition Materials
Sign up for an audition here
1st-year students, please fill out this form to let us know about your music interests
Percussion and harp players, please contact the Orchestra Director about audition requirements
For questions or further information, please contact the Orchestra Director