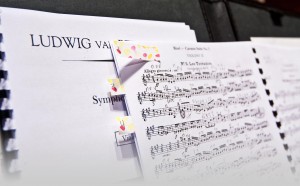 Thank you for your interest in auditioning for the Claremont Concert Orchestra!
Fall 2022 auditions (for new and returning students) will hopefully happen in person during orientation week. More information will be posted here during the summer months.
Works projected to be performed in 2022-23 include Fauré's Requiem in collaboration with the Claremont Concert Choir and the Claremont Chorale, Debussy's Nocturnes Nos 1 & 2, the premiere of a newly commissioned piece for electric guitar and orchestra by Pablo Santiago Chin, Tchaikovsky's suite from The Swan Lake ballet, and much more!
Fall 2021 Auditions
Normally, auditions take place in person during orientation week and within the first 2 days of the fall semester and all students (new and returning orchestra members) are required to audition. During these transitional times, auditions will take place asynchronously online through the audition form provided below. We have determined that not only will this be the safest alternative, but it will also give students greater flexibility in submitting their best audition during these challenging times.
Fall 2021 AUDITION FORM.
IMPORTANT NOTES:
You may go ahead and submit a Perm Request on the academic portal for MUS 175. Perm Requests will be processed after the auditions are completed (by the first week of classes at the latest). You will be able to return to the portal and add the class at that point.
If you have questions, please contact Prof. Cubek at dcubek@scrippscollege.edu or dcubek@g.hmc.edu